About Us
---
The School of Musical Traditions was created to expand the lesson program of the House of Musical Traditions, a fixture in the Washington, D.C. area music scene since 1972.
We offer personalized private lessons in a very wide range of instruments, genres, and traditions, including traditional folk, rock, blues, pop, jazz, and classical.
We believe that anybody can learn to play music! We work with students ages 6 and older, including adults who are well into retirement. We are committed to inclusivity and do not discriminate based on race, national origin, religion, sex, gender identity (including gender expression), sexual orientation, disability, or age.
We teach students at all ability levels, whether you are just getting started with an instrument for the first time, or are seeking instruction to reach a higher level of playing.
Many of our students take lessons for the express purpose of making music for their own enjoyment. We also teach students who develop careers as performers, teachers and recording artists.
Our teachers span a very wide range of musical interests and abilities. All of us are passionate about the idea that music can be enjoyed by everyone.
Whatever your own goals are, we are excited to welcome you to our studio!
Amanda Thorstad
Director
She grew up playing classical music, culminating in a music degree from St. Olaf College. Amanda later shifted into folk music and currently performs on banjo, fiddle, and guitar with The October Sessions.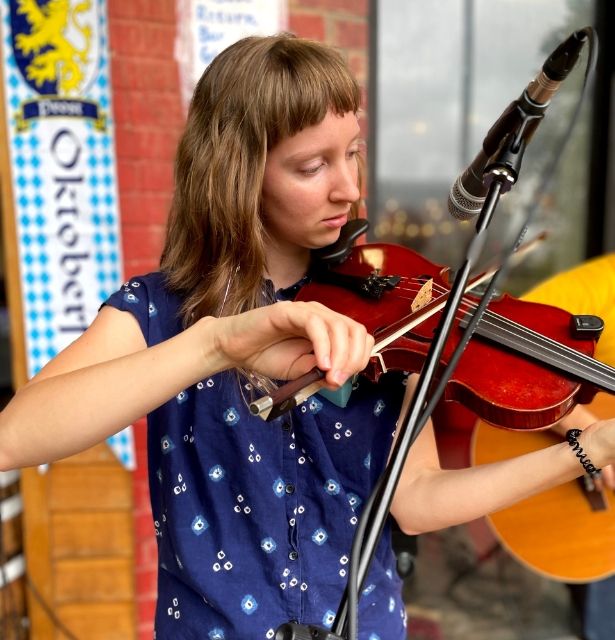 Beatrice (Bebe) Blumenthal
Student Relations
Bebe is a fiddle player from Chicago. She works at House of Musical Traditions and teaches fiddle, mandolin, and banjo in the DC area. Bebe grew up playing classical violin and found fiddle music while studying at Denison University, where she graduated with a degree in music performance and Bluegrass.
Gabby Marie
Marketing Coordinator
Gabriella Marie, soprano, has experience as a performer in opera, opera workshops, musical theater, solo recitals, concerts, and on the stage in theater performance.