Cherry Blossom Carousel
---
Featuring
Moose Jaw Bluegrass
This monthly series, hosted by Cherry Blossom Special, will feature a joint performance with a guest artist, as well as occasional jams.

The first showcase in our series features Moose Jaw Bluegrass and Cherry Blossom Special.
Rooted in the high lonesome sound of the 1940's - sullied by an affinity for cheap brews, swampy southern rock anthems, and stamped with an outlaw country attitude: Moose Jaw brings the timeless tradition of American roots music into a new era. They focus on putting a new spin on the old-time tales of ramblers, rovers, and revivals. Together with the progressive bluegrass stylings of Cherry Blossom Special this show is sure to make for a dynamic evening of exciting and beautiful music that is simultaneously nostalgic and fresh.
Details
Date
Sat, March 25, 2023
Time
7:30 PM EST
Location
Takoma SPARK
7112 Willow Ave
Takoma Park, MD 20912
Price
$20
---
CHERRY BLOSSOM SPECIAL
Drawing from the rich history of Washington D.C.'s acoustic music sphere, the folk quintet's compositions and arrangements seek to go beyond storytelling. Rather, the group uses their vibrant music to examine the complex spectrum that blends tradition and innovation, begging the question, what do the stories we tell say about ourselves?
Award-winning vocalist and mandolinist, Nick Cameron , brings technical proficiency that allows them to pen sharp and forward thinking arrangements. Banjoist and lyricist, Gabby Cameron, pulls songwriting inspiration from her ethnomusicological scholarship, having been named the 2022 IBMA Neil Rosenberg Bluegrass Scholar for her groundbreaking research in Jewish bluegrass music. Cellist, Sophie Chang, brings rhythmic vitality through her experience as a versatile contra dance musician. Enhancing the group's genre ambiguity, Mari Carlson's playing styles range from traditional Swedish fiddle to keen jazz violin. Guitarist, Justin Heath, offers the group a mellow and intuitive tone, bridging his harmonic insight from jazz and tango with bluegrass flatpicking.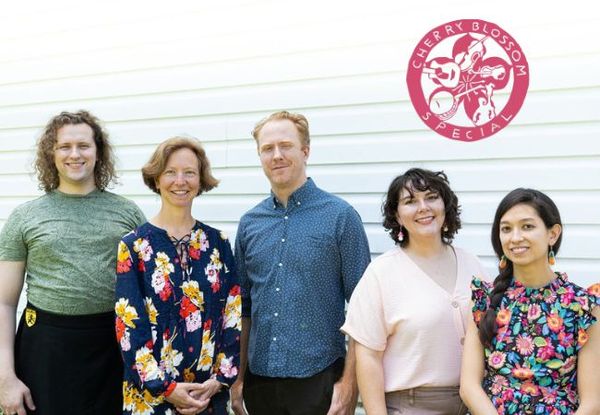 ---
Ticket Policy
Tickets are nonrefundable.

In the event of a venue cancellation, you may choose between either (1) a full refund, or (2) a full credit to any SMT event, class, workshop, or private lessons.